Old Digital Literacy

Tuesdays 13:00 - 14:00, baumhaus.digital/odl

daniel@udk-berlin.de
Semester 0 :: Historical Context

Session 6 :: Hommage to Alan Matthison Turing
Order of the day
Narratio :: The imitation game
Repetitio :: Babbage, Boole & Ada Lovelace
Questio :: Can machines think ?

Lectio ::

Turing machine
Turing test

Exercitio :: Turing test.
The imitation game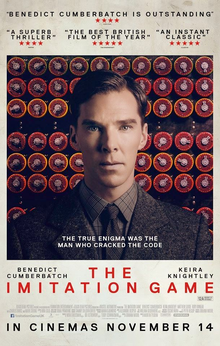 a 2014 movie adaptation of the book Alan Turing: The Enigma (1983)
8 Oscar nominations, one Oscar for Best Adapted Screenplay
story about life, work and death of Alan Matthison Turing (A.M.T.)
Question of the day
Can machines think ?
What does it mean "to think" ?
your definitions
dictionary definition
philosopher's definition
What do You think?
philosopher's definition of "thinking"
What I want to tell You is ... that "thinking" consists of execution of operation with signs. *
* Origin of this quote is to be sought from in some later works of L.Wittgenstein.
A.M.T. OBE FRS (23.6.1912 - 7.6.1954)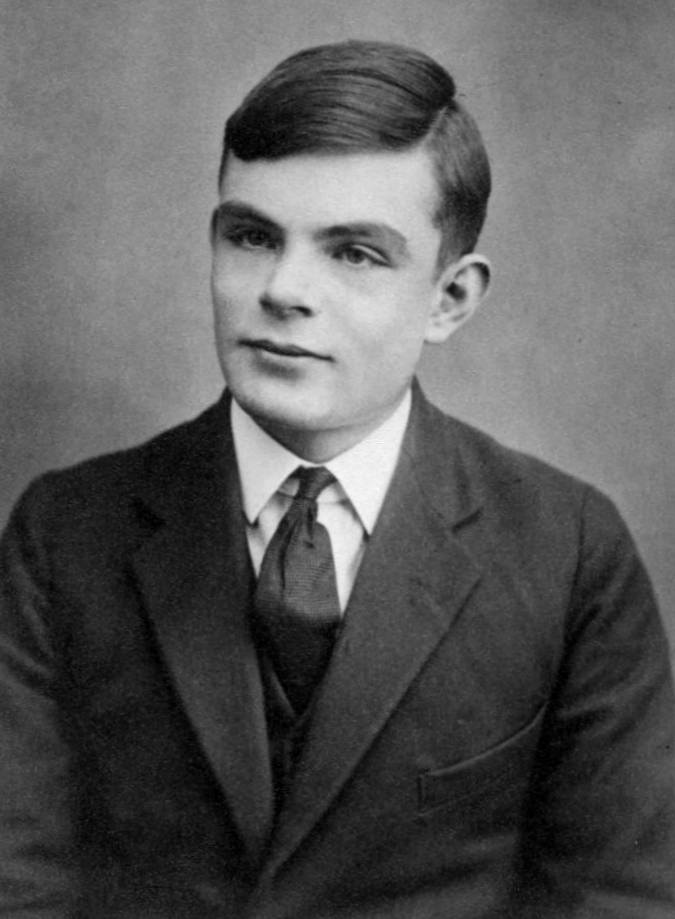 an English mathematician, computer scientist, logician, cryptanalyst, philosopher and theoretical biologist
father of theoretical computer science (1936) and artificial intelligence (1948-1950)
pivotal role in the project Ultra
convicted for "gross indecency" in 1952, put on hormonal treatment, develops gynaecomastia
death by cyanide; half-bitten apple by the bedside
Queen's "pardon" on 24.12.2013
halting problem is the problem of determining, from a description of an arbitrary computer program and an input, whether the program will finish running (i.e., halt) or continue to run forever
Turing proved that a general algorithm to solve the halting problem for all possible program-input pairs cannot exist
to prove this, he described a paradox involving a concept now known as "Turing machine"
a Turing machine #1
A "theoretical" machine consisting of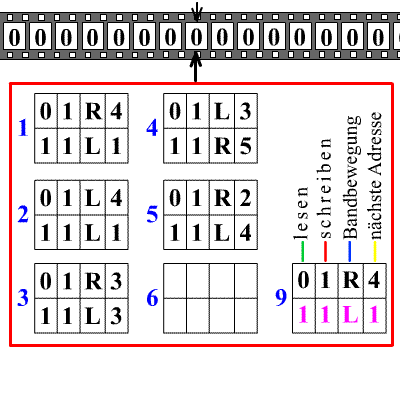 tape with discrete symbols
reading/writing header
tape-moving mechanism
Visualization of the Turing Machine (Rosario van Tulpe, 2007, CC BY-SA)
Universal Turing machine
"
It is possible to invent a single machine which can be used to compute any computable sequence. If this machine U is supplied with a tape on the beginning of which is written the S.D ["standard description" of an action table] of some computing machine M, then U will compute the same sequence as M
." (Turing, 1936)
Turing test
"A TT is a way how to address the question "Can machines think?" in a scientifically plausible ye deeply empathic way. More concretely, Turing (1950) proposes that the performance of an AA under question shall be evaluated by a human judge J whose objective is to determine which among two entities - with whom J is in real-time interaction - is of human and which is of artificial nature." (Hromada, 2012)
The imitation game
Exercicio :: Musical Turing Test
You are going to hear two pieces of music. One is composed and performed by humans, another is composed and generated by an artificial system. You are going to hear both pieces twice. Subsequently, You are going to write down which piece (first or second) was composed and performed by human beings.
Disputatio : "Can machines think ?"